Trapeze, Stand Up Paddle, Wheel, Mat Classes & Personal Coaching
If you are interested in scheduling a session for yourself, family members, or a small group please start by calling or texting 360-451-3179.
Gravity Yoga Offerings coming up this season. Click the Read More Buttons below each category.
New
Stand Up Paddle Yoga Workshop
In our Beautiful Studio, Outdoor Yoga Garden, In Your Favorite Park, On the Water, or even Online!
Learn from Zoom Classes, In Person Classes, Private Coaching, Group Parties & Workshops
Restore your body and soul with our classes, and feel better about yourself.
Gravity Yoga Offerings
Group Sessions are great for all levels. From complete novice to advanced. But if you're a total beginner and are nervous or just want to get a more calm introduction to Yoga Trapeze we offer Private sessions to help you find the confidence you need to get to know your body.
Yoga Trapeze, Yoga Wheel & Mat Yoga for beginners and advanced students.
Outdoor Yoga Trapeze Classes in the Yoga Garden on 8th Ave (a few blocks from our downtown Oly studio)
Stand Up Paddle Board Lessons and Yoga
Online classes for Yoga Trapeze as well as Gentle Floor Yoga & Strengthening & Stretching.
New! Gravity SUP Workshop
3 Online sessions (Saturdays beginning April 17th)
3 On Water sessions (Saturdays beginning May 15th)
How you can help Gravity Yoga? GoFundMe Campaign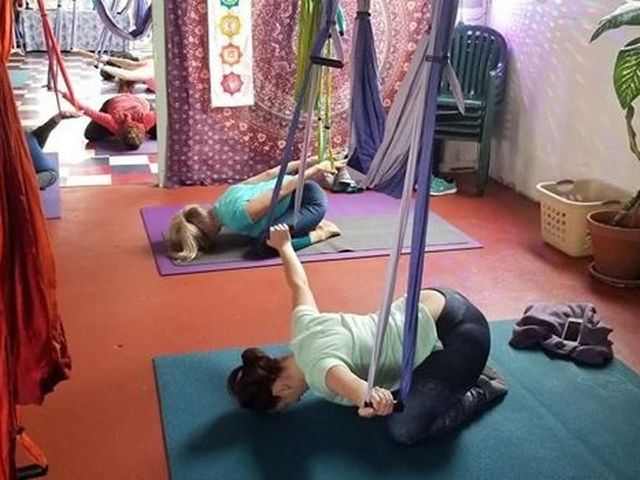 Your Instructor and Gravity Yoga's beginnings
Owner/Instructor Lori Capra is a Certified Yoga Instructor & Certified Yoga Trapeze Trainer. Lori has been doing yoga since she was 16. (now 55!) At the age of 20 Lori trained to become a Carpenter and then ran her own construction company for over 30 years, on the East Coast and here in Olympia WA. Around 15 years ago Lori discovered and began Stand Up Paddle Boarding and Yoga on the SUP! Lori has been instructing floor yoga and SUP Yoga for over 12 years at various school settings, gyms and the 8th ave Outdoor Yoga Garden.
Then in 2017 she opened Gravity Yoga LLC. The first studio dedicated to Yoga Trapeze or Aerial Yoga here in the South Sound. 3 successful years passed, thousands of people were introduced to Yoga Trapeze a new and exciting addition to the Yoga family.
As far as the studio, we are still unable to fully reopen the but we have many modified and creative new offerings to get you moving and ready for the summer after this strange year.
Gravity Yoga Offerings coming up this season. Click the Read More Buttons below each category.
GRAVITY YOGA LLC
Founded in 2017 by Lori Capra,
GRAVITY YOGA, is first studio introducing Yoga Trapeze in Olympia area. Also offering many other styles of yoga to meet every body's needs.
Do you have questions about our yoga studio or the yoga classes we offer here?
GravityYoga.Oly@gmail.com
(360) 451-3179
1226 8th Ave Se Olympia Wa 98501
Due to Covid we are asking that you Call to set up a class for You 360-451-3179. The studio is closed for our regular schedule until further notice.
Monday

Closed

Tuesday

Closed

Wednesday

Closed

Thursday

Closed

Friday

Closed

Saturday

Closed

Sunday

Closed